Vivaldi and Opera, Virtuosi di Venezia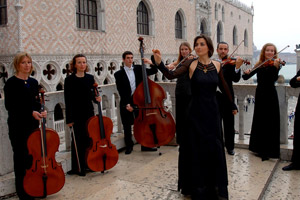 Take a musical excursion through the centuries with this varied programme performed in a historic ambient by one of the best-known chamber ensembles in Venice.
The concerts of the virtuoso musicians of the San Marco Chamber Orchestra are dedicated to the genius and unique compositions of the violinist and conductor Antonio Vivaldi, who was born in Venice in 1678. The son of a violinist at St. Mark's Cathedral, Vivaldi took holy vows in 1703 and as well as teaching at the girl's orphanage and conservatory, Ospedale della Pietà, toured extensively in Europe. He died in 1741 in Vienna.
In the ancient Church of Ateneo di San Basso on St. Mark's Square in the heart of the city, the ensemble lovingly presents the most beautiful and best-known works of Antonio Vivaldi, Wolfgang Amadeus Mozart, Giuseppe Verdi and many other Italian opera composers in an atmosphere redolent of the 17th century.
Extract of the program:
Antonio Vivaldi

Sinfonia "Olimpiade" - per archi e basso continuo
"Eurilla e Alcindo" - "Mio cor, povero cor", aria per soprano

G.F.Haendel

" Xerxes" - "Ombra mai fu", aria per Tenore

G. Donizetti

"L'elisir d'amore" - Preludio e Coro d'introduzione per Orchestra
"L'elisir d'amore" - "Una parola o Adina", duetto per Soprano e Tenore

G.Puccini

"Manon Lescaut" - "Intermezzo" per Orchestra
"Bohème" - "Si, mi chiamano Mimì", aria per Soprano
"Tourandot" - "Nessun dorma", aria per Tenore

G. Verdi

"Rigoletto" - "La donna è mobile", aria per Tenore
"La Traviata" - "Sempre libera", aria per Soprano
"La Traviata" - "Brindisi" duetto per Soprano e Tenore

G. Bizet

"Carmen" - "Entrè Acte III" per Orchestra